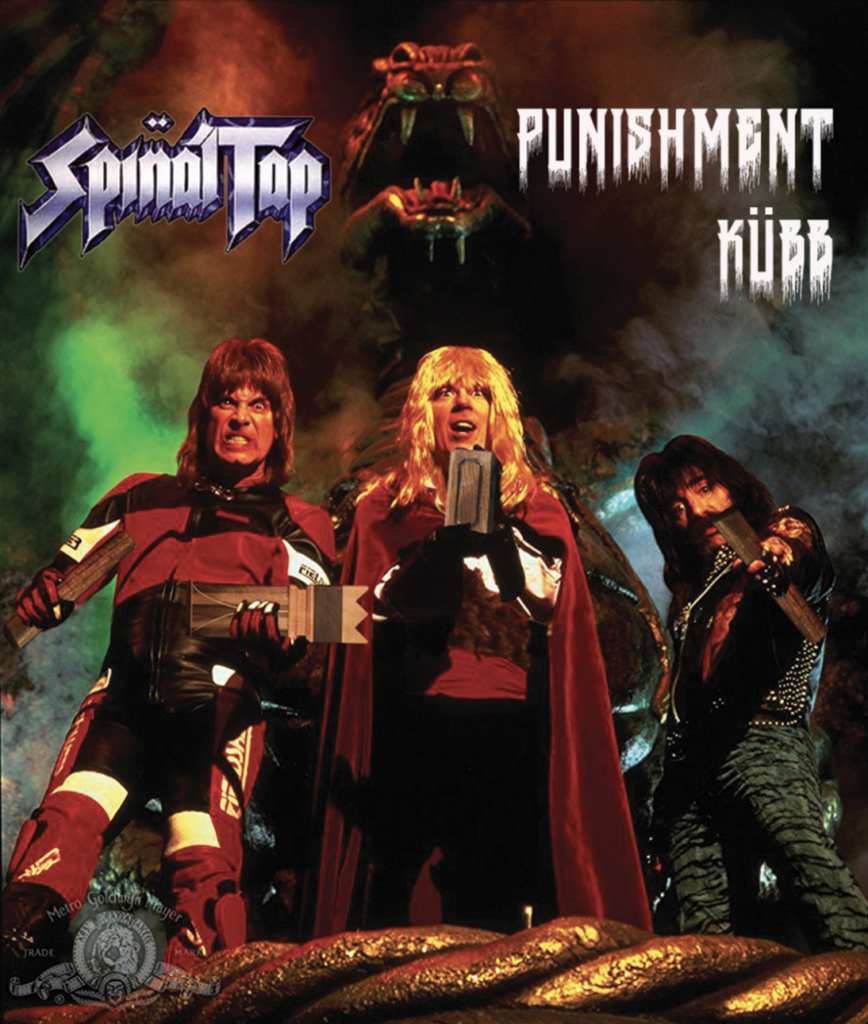 In the spring of 1975, British rock icons Spinal Tap were taking a well-deserved rest after a long and loud tour of North America in support of their critically acclaimed album "Intravenus de Milo."
The band was spending time in the studio recording a new concept record conceived and written by bassist Derek Smalls.  Inspired by The Who's wildly successful "Tommy," Smalls endeavored to write his own rock opera – "Punishment Kubb" –  about a boy who gets revenge on his grade school bullies by becoming a champion kubb player and crushing his former oppressors on the pitch.
It was only six months earlier that that the rockers had been introduced to the game of kubb. At a raucous afterparty following their partly sold-out LA Forum show, promoter Artie Fufkin introduced the band to LA Kubb Club member Alice Cooper who invited them out for a friendly late-night match.  Three hours of horse-tranquilizer-fuelled block tossing later, the lads were hooked!  In a later interview with Rolling Stone magazine, singer David St. Hubbins and guitarist Nigel Tuftnel would count that night among the more important in their spiritual journey as a band. "I like the bit where you throw wood at other wood," mused Tuftnel.
At the end of that fateful night, Cooper gave the band a kubb set to use for the rest of their tour and the game quickly became a pre-show ritual for them as they made their way across the country.  Kubb turned out to be something of an obsession for Smalls, who immediately started kicking around ideas for his kubb-centered concept album.
Recording was plagued by difficulties from the start.   Early on, during a back garden friendly, the band lost their fourth drummer, Ian "Stumpy" Marshall when he was struck in the temple by a wild baton throw and died instantly.  Additionally, the project was over-budget almost from the beginning due to Smalls' insistence on having all 86 members of the London Philharmonic play triangle on the 12 minute epic track, "The Outhouse" – an homage to legendary late night South Pasadena kubb spot where Tap had first played the game.
With the death of yet another drummer, the budget overruns and the absence, after 6 weeks in the studio, of any releasable material, Polymer Records decided to pull the plug on the Punishment Kubb sessions.   Recordings from those sessions have never been released but it's rumored that the free-form "Jazz Odyssey" which Spinal Tap would go on to include in their mid 80's festival shows was a reworking of "Behind the King," the 35 minute musical exploration of PK placement from those legendary 1975 sessions.
Spinal Tap: The Punishment Kubb Sessions