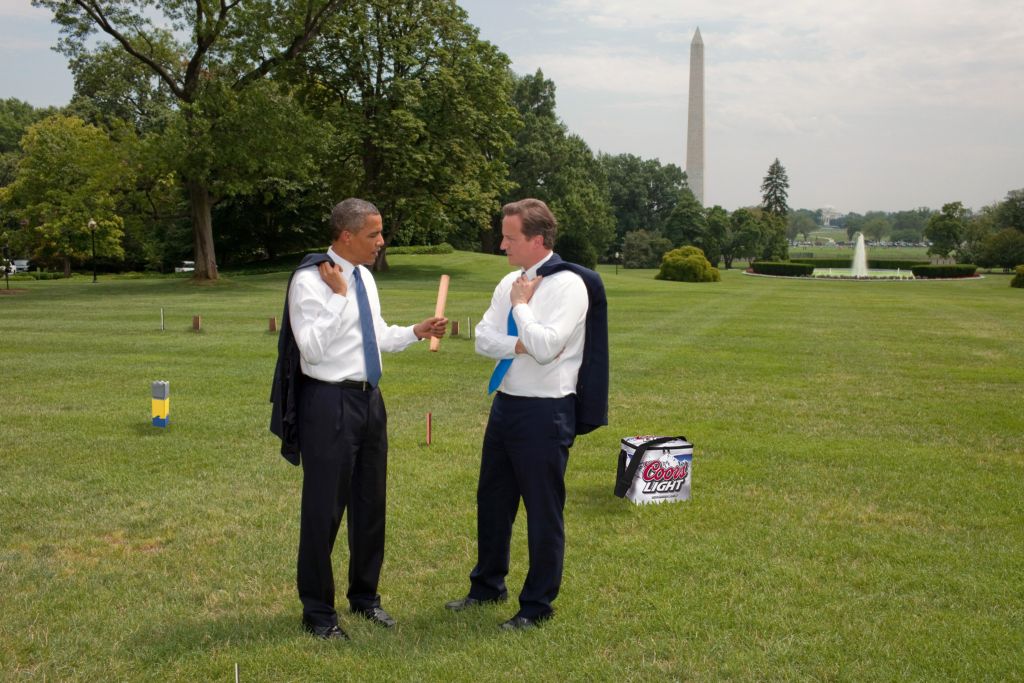 Since World War II, the United States and Britain have often been described as having a "Special Relationship."  Few realize that the term was first used by Prime Minister Winston Churchill when he and US President Harry Truman teamed up for the 1945 U.S. National Kubb Championship.  While they ended up with a respectable silver-bracket showing, the two statesmen found their on-pitch skill sets complemented each others' wonderfully: Churchill a formidable blaster and Truman a capable and dependable driller.
It was during a post-tourney interview with the Eau Claire Leader-Telegram that Churchill waxed effusive about his love of kubb and the "special relationship" the two men have while playing.  Over time this term has come to refer to the close diplomatic, economic and military ties between the two nations.
Pictured here discussing the importance of controlled baton rotation with Prime Minister David Cameron during a State Visit in 2011, President Barack Obama was known to be an avid kubber and taking a cue from his idol, Abraham Lincoln, brought the game back as an important tool of statecraft. The two leaders played together on several occasions, both at the White House and on the very pitch set up by Churchill himself behind 10 Downing Street.  Not since the Reagan / Thatcher era had the game of kubb played such an important role in British-American relations.
When asked in a 2013 interview with Foreign Affairs Magazine about his playing style, President Obama was quoted as saying, "Michelle always tells me I should step into my throws, but I find my 4-meter percentages go way down when I do that…  uhhh….so I like to stand still."
Since the inauguration in January 2017 of Donald Trump as President, many kubb pundits and international affairs experts have been wondering what will become of this historic "special relationship."  Trump has been known to play some kubb at his Mar-a-Lago resort with a special 3/4-sized set which he had custom-made to accommodate his smaller hand-size.  Since drilling with full-sized kubbs might prove challenging for him, it remains to be seen whether he will abandon this rich tradition of kubbing with foreign dignitaries, or perhaps team up with a drilling specialist that would allow him to play the game without embarrassment.
The US-UK "Special Relationship"