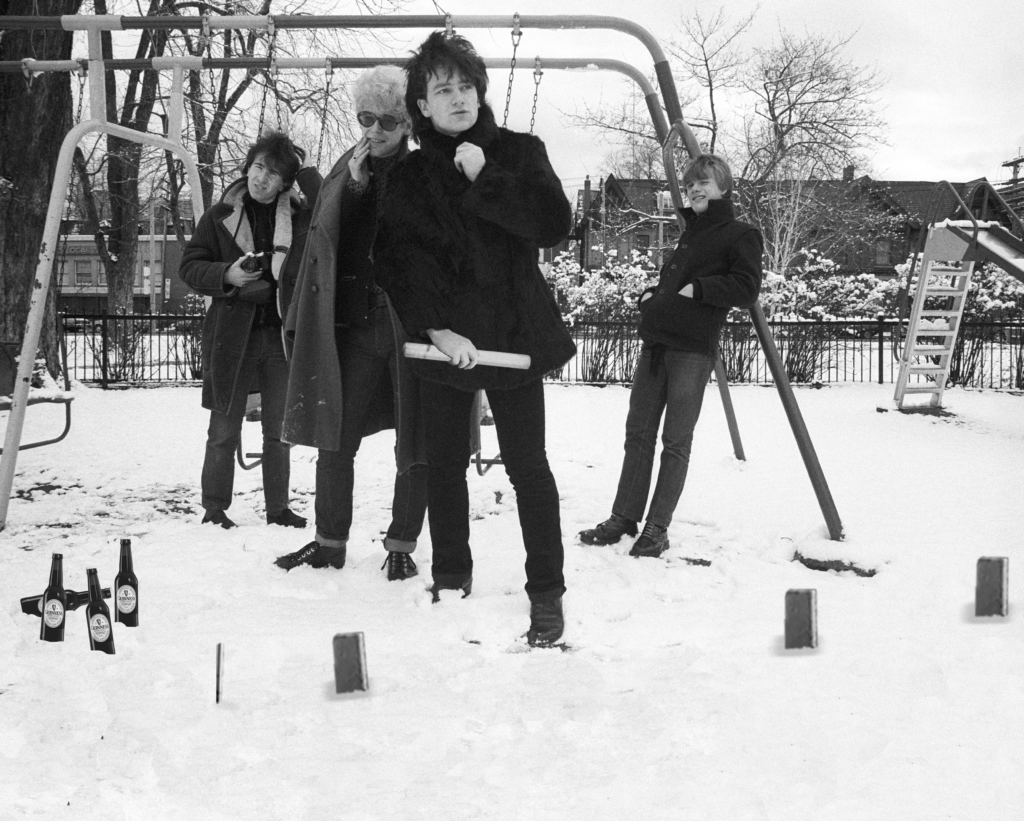 In the mid-seventies, the Mount Temple Comprehensive School kubb team was one of the strongest on the greater Dublin junior circuit and it was on that team that the four young lads who would become one of rock 'n roll's biggest acts first met.  Before any of them had even considered a career in music, Paul "Bono" Hewson, Dave "Edge" Evans, Adam Clayton, and Larry Mullen, Jr. – pictured here practicing on a snowy winter's day in 1976 – had developed a synergy on the pitch that made them a dominating force in Irish kubb.
As has been widely reported, U2's breakthrough 1983 hit "Sunday Bloody Sunday" was in fact written about the social unrest that followed the controversial final match at the 1981 Kubb World Championships in Gotland, Sweden.  Visiting kubb hooligans took to the streets of Gotland that August, smashing windows and throwing molotov cocktails after a line judge controversially ruled that a stake-shunted field kubb was improperly tipped up, a call that cost the upstart American team, Damage Incorporated, the title.  The song was a rallying cry to the kubb community and is viewed by kubb historians as the catalyst that brought about the standardization of rules and regulations that govern the sport today.
Fun fact:  Guitarist Dave Evans first got the nickname "the Edge" during his kubbing days due to his ability to pickup 8-meter baseline doubles by tagging the very edge of the kubb, knocking it sideways into it's neighbor.