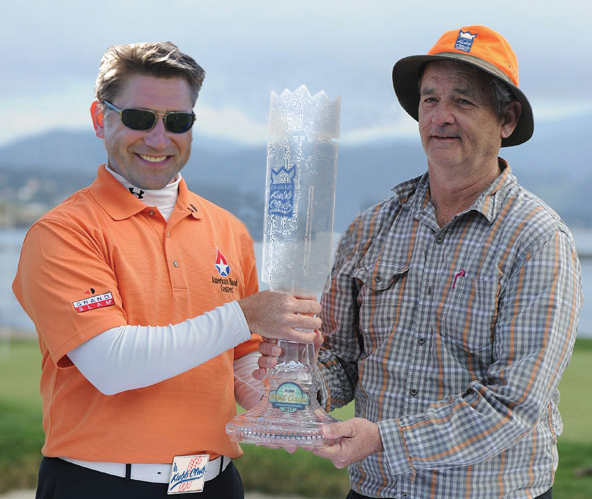 Once the premier kubb event in Southern California, the LA Kubb Club's Malibu Celebrity Classic turned out the stars and kubb greats alike in support of good causes year after year for decades. The 2003 winning team of Oscar-nominated actor Bill Murray and global kubb evangelist Joe Zenas (pictured here hoisting the "Krystal King") were no strangers to the podium having won first place a record five times! At this event, the pair had just narrowly edged out crowd favorites Betty White and Evan Fitzgerald in a grueling 2-1 match that lasted nearly three hours and was delayed repeatedly due to injury time-outs for the aging actress.
Sadly, Murray's kubb career was cut short when, shortly after this picture was taken a wild helicopter thrown by local amateur Kris Johnson glanced off a corner stake and struck his shin, shattering the actor's tibia. Unable to walk for months afterwards, Murray was forced to take an off-screen role voicing Garfield the cat in the 2004 animated film of the the same name and it's 2006 sequel, "Garfield: A Tail of Two Kitties." Both films were critical and box-office failures and to this day, Murray blames Johnson for this devastating downturn in his career.
Since the Murray injury and his subsequent departure from the sport, the Celebrity Classic has gradually lost support in Hollywood and has been eclipsed on the tour circuit by South Pasadena's annual West Coast Kubb Championship – which attracts serious kubbers from around the globe. The celebrity tournament is still held every few years as a fundraiser, however, with proceeds going to combat the black-market trade in kubb sets made from the endangered California Redwood.
Malibu Celebrity Classic, 2003