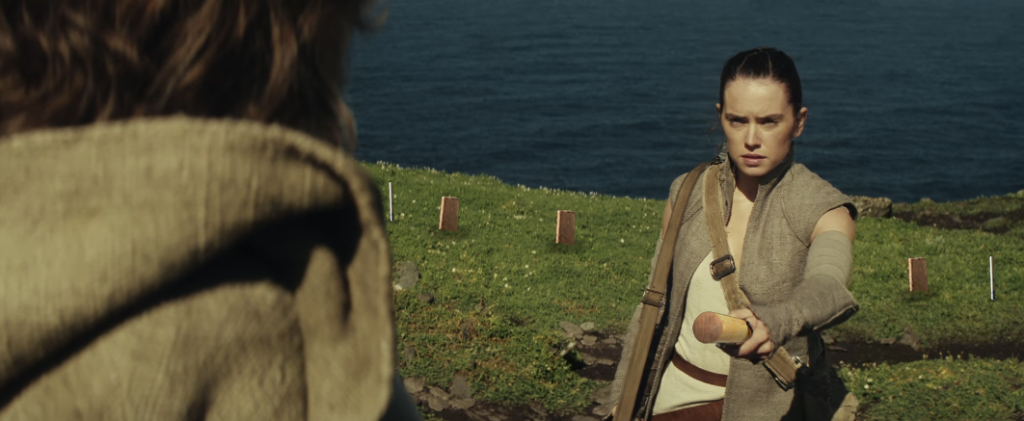 Due in part to the LA Kubb Club's proximity to Hollywood and the club's representation in the entertainment industry, it has become quite common these days to find kubb pitches setup in studio back-lots and on filming locations around the world. Few actors have embraced the game as much as Luke Skywalker himself, Mark Hamill. In his contract rider, Hamill always demands a brand new tournament-spec poplar kubb set, from JP's Backyard Games of Chaska, MN, set up on a regulation pitch within 30 feet of his trailer and is known to pull extras, grips and craft services personnel away from their work in order to play kubb with him in the downtime between his scenes. He attributes what he considers to be his outstanding acting ability to the meditative experience of playing one-on-one kubb just before a take.
Hamill can be seen in this March 2016 photo playing kubb with Star Wars co-star Daisy Ridley atop Ireland's Skellig Michael island during filming of Star Wars Episode VIII: The Last Jedi. Ridley has just lost the king toss and is handing Hamill his fourth baton.
Not everyone shares the actor's love of the game, however. As is made clear by her facial expression in the photograph, Ridley (who's character, Rey, represents the new generation of protagonists in the blockbuster sci-fi series) is frequently annoyed at the distraction of having to play Hamill during principal photography. "If this guy spent half as much time working on his acting as he does on his drilling, he might not be such a hack," vented an exasperated Ridley during a recent shoot in the Moroccan desert. "…you're not going to print that, right?"
Assuming reshoots have wrapped by then, Hamill is expected to make another appearance at the West Coast Kubb Championships in South Pasadena on April 23rd 2017 with teammate and fellow uncastable Star Wars alum, Hayden Christensen.
Star Wars Episode VIII, 2016